Articles
From «Aircraft Illustrated», November 1972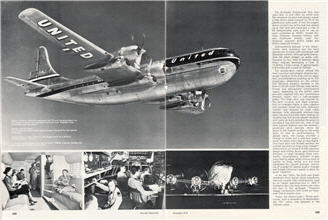 CHRISTINE RILEY recalls Boeing's Model 377 Stratocruiser, the early post-war airliner whose luxurious Pullman-like comfort earned it the reputation of being the Queen of the Sky — and the nickname
«Statuscruiser»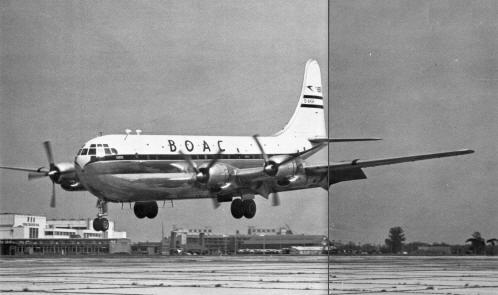 BOAC Stratocruiser G-AKGK «Canopus» lands at Heathrow. BOAC
REMEMBER VJ Day? Plans for peacetime airliners were already on the drawing boards and Boeing, whose revolutionary 8-29 Superfortress had precipitated Japan's surrender by atom-bombing Hiroshima and Nagasaki, was racing to adapt important aerodynamic advancements of the Superfort into its commercial projects. The largest of the long-range passenger transports during this era was the Model 377 Stratocruiser, counterpart of the C-97 Stratofreighter.

Taking shape on the assembly lines of Boeing's Wichita plant that autumn were long straight rows of gleaming B-29s; others, fully completed were arrayed outside on the warm-up ramp being prepared for test Then came the bombshell: the US Government, already faced with thousands of unwanted warplanes on its inventory, decreed that the unfinished Superforts should be scrapped. And so it was that rivet guns gave way to oxyacetylene cutting torches which reduced the planes to chunks of smouldering metal for bulldozers to nose into a mountain of debris in the middle of the plant. This was but one of the heartbreaking tasks faced by America's planemakers in the period heralding the switch from swords to ploughshares.
With the Stratocruiser, Boeing decided to take a gamble and start production of 50 aircraft at its Seattle plant. "The chips are down", William M. Allen, Boeing's President, told his sales team, "if you don't sell the 377, a lot of people will be out of jobs and Boeing could be out of business"
A passenger retires for the night on one of BOAC's Stratocruisers
The prototype Stratocruiser flew two years later, in July 1947, by which time Pan American Airways had already signed a 242million dollar contract for 20 of the planes plus spare parts. It was the biggest dollar contract any airline had ever placed up to that time and eventually a total of 55 Stratocruisers were built for use by such customers as BOAC, United Airlines,American Overseas Airlines, SAS and Northwest Airlines. Later Pan American acquired AOA's Strats and BOAC obtained United s.
Distinguishing features of the Stratocruiser were numerous but the most spectacular of these were concerned with passenger comfort, although performance wise the plane shaped up pretty well. Powered by four Pratt Whitney Wasp Major engines developing a total of 14 000hp, it had a range of approximately 4 400 miles and cruised at 325mph.
United Airlines operated the 71-ton Stratocruiser on 12 weekly round-trip schedules between Los Angeles, San Francisco and Honolulu.
The Strat's famous lower-deck lounge reached by the spiral staircase.
Room with a view. Crew on the flight deck of a BOAC Stratocruiser. BOAC
A factory-fresh Strat runs up its four 3 500hp engines during the manufacturer's check-out tests.
The double-deck interior offered the most luxurious and elegant airborne passenger transport of the time with an upper deck accommodating anything up to 100 passengers (depending on the airline) and featuring sleeping facilities in the form of 28 full-sized Pullman-type berths. Private and semi-private compartments (again, depending on the airline) were provided,together with two commodious dressing rooms and a well-equipped galley. The flight deck was manned by the pilot, co-pilot, and flight engineer, and on overseas flights a radio operator and navigator joined the crew. Maximum comfort was ensured by wide aisles between fully adjustable armchair-type seats,the sound proofed cabin, heating, air conditioning and double-glazed windows with warm air ducts between the panes to counteract fog and frost etc. One of the most popular features was the centrally positioned spiral staircase which led down to the cocktail lounge on the lower deck. As well as accommodating 14 people easily, the lounge provided a change of scene and a welcome opportunity to stretch one's legs on long flights. The lower deck was divided between the cocktail bar and two large cargo compartments which, on account of their spacious design and folding doors, gave maximum efficiency in cargo handling. Other noteworthy characteristics included hinged wing leading edges which swung back to expose oil lines, wiring and anti-icing equipment etc, "power package mounting of engines for speedy engine changes and hinged instrument panels to allow for quick inspection.
In the late 1950s, the Strat was finally withdrawn from regular airline operations, although several were subsequently used by air freight operators — but in 1962 it entered a new and most bizarre role when the first of the grotesque "Pregnant Guppy" conversions took to the air. However, that is another story ...
Today, the Stratocruisers "flying penthouse style is mirrored in its descendant, the 747, which was featured in the February issue.
«Clipper Southern Cross» of Pan American proceeds across a taxi-way bridging a main highway approaching the terminal within Los Angeles Airport.
STRATOCRUISER CHRONOLOGY
June 20, 1942
Preliminary engineering summary of Stratofreighter prototype. the XC-97 prepared.
Nov 9, 1944
Announcement made of Stratocruiser project, prototype XC-97 Stratofreighter makes first flight.
Nov 28, 1945
Pan American orders 20 Stratocruisers—first order from six airlines.
July 2, 1947
Prototype Stratocruiser rolled from factory.
July 8, 1947
First Stratocruiser test flight.
Jan 31, 1949
First Stratocruiser delivery—to Pan American.
STRATOCRUISER SPECIFICATIONS
Dimensions
Span 141ft 3in Length 110ft 4in Height 38ft 3in (26ft 7in tail folded)
Weight:
Gross 145 800lb; Empty 83 500lb
Power Plant:
Four 3 500hp Pratt & Whitney Wasp Major R-4360s equipped with General Electric BH-4 turbosuperchargers
Propellers:
Hamilton Standard 16ft 6in diameter or Curtiss Electric 16ft 8m. Both were 4-blade, constant speed, full feathering, reverse thrust.
Speeds:
300-340 miles per hour cruising at 25 000ft altitude. Ceiling Normal operating altitude 15 000 to 25 000ft. Service ceiling 33 000ft at 110 000lb gross weight. (Altitude conditioning produces sea-level cabin conditions to 15 000ft; 3 000ft altitude conditions at 20 000ft, and 5 500ft conditions at 25 000ft.)
Landing gear:
Tricycle, retractable, dual wheels throughout.
Crew:
Flight—5 men, pilot, co-pilot, flight engineer, radio operator and navigator.
Service crew 3-4; 2 stewardesses and one or two stewards.
Operating range:
Maximum range (no wind, no fuel reserve) with 10 500lb payload 4 000 miles. Same conditions 25 000lb payload—3 000 miles.
Fuel capacity:
7 790 gallons.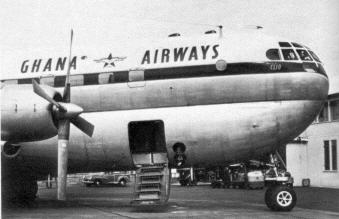 Rare view of BOAC Stratocruiser G-ANUC «Clio» with the markings of Ghana Airway temporarily applied.